Milo Fleck's Sponsorship Page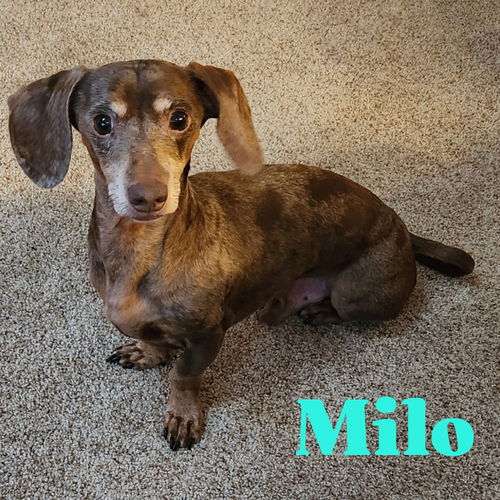 Hello everybody, my name is Milo Fleck! I got rid of those nasty heartworms so now I'm ready to find my forever home!
As you can see, I'm a very handsome 9 year old chocolate dapple. I was from a very loving home but due to my dad's health issues, he asked DDRTX to take me in.
My dad was retired so he and I were home together most all the time, so I would prefer not to be left alone for too long. I would maybe do OK if there was another dog staying at home with me.
My most favorite thing to do is to sit in your lap but I'll stay in my bed if you tell me to. I'm a great snuggler and love to burrow under the blankets. I get along great with other dogs but I'm not sure yet about cats. I'm house trained, leash trained (and I do like to take walks) and crate trained! I do let you know when I hear noises so I don't think I would do well in an apt/condo setting.
Oh, one more thing....I need to be introduced to new people slowly when they come to visit. I love my people and protective of my home, but once I get to know your friends, I'll be fine!
My foster mom loves me and thinks I'm the sweetest little guy. I have a big heart in this tiny body. She thinks you'll love me too! So if you would like to meet me, submit your application today!
Milo Fleck's Sponsorship Options


One Time Sponsorship
---------- OR ----------
Recurring Sponsorship
$

Repeat sponsorship payment every:
Would you like to stop
the recurring sponsorship
after a certain number of payments?
Yes No
If yes, how many?