Kendall Leigh's Sponsorship Page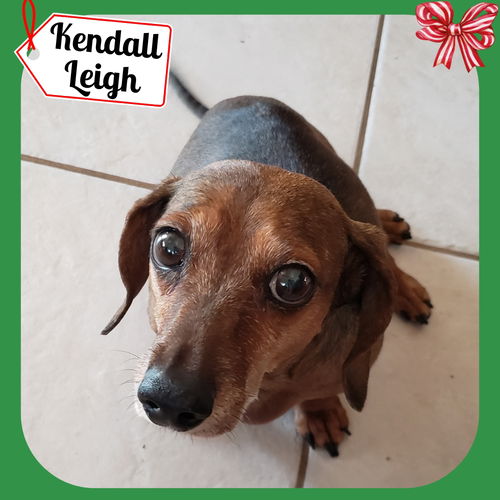 Kendall Leigh found herself as a stray at a shelter who reached out to DDRTX for help. Kendall was having some back issues and they knew they wouldn't be able to adopt her out and that she needed help. Kendall went straight to one of our vets and was on crate rest and meds to help her heal. She has also had several acupuncture treatments which have worked wonders. She has recovered wonderfully, walking and running wherever she wants to go!
This little lady is pure Diva! She has so much personality and is just in need of an understanding, loving home. Food is a major motivation to her and while that is a common characteristic for dachshunds, it is very strong for her. But with her previous back trouble, her weight definitely should be managed.
Please check out her video so you can see how excited she gets about getting attention and ready for dinner time.
Kendall Leigh is 10 years old and weighs 14 pounds.
Kendall Leigh's Sponsorship Options


One Time Sponsorship
---------- OR ----------
Recurring Sponsorship
$

Repeat sponsorship payment every:
Would you like to stop
the recurring sponsorship
after a certain number of payments?
Yes No
If yes, how many?