Starsky's Sponsorship Page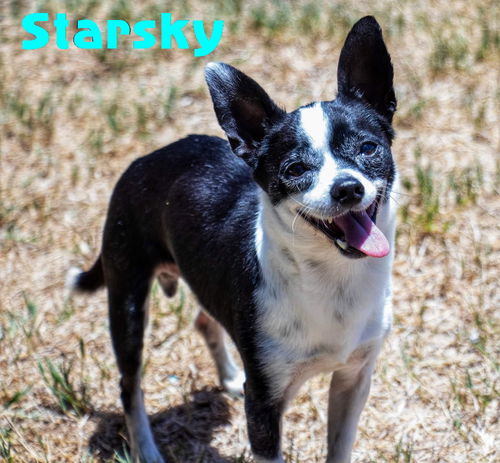 Starsky was found locked in a crate in the Texas heat along with another dog, Hutch. There was no food or water. Both boys were emaciated, dehydrated, and chronically neglected over time.
Starsky likes to be held and carried around. He loves having his neck scratched and his belly rubbed. He wants to be in the same room as his foster parents.
He has really come out of his shell since his dental and neuter. He came to us with only 4 teeth and one was so loose that it had to come out. He's doing great with his 3 teeth!!
His little tongue hangs out most of the time but that just makes him look cuter!
He eats canned and dry food.
He has gained some weight and looks very healthy! He's very outgoing and loves people. Not afraid to jump into your lap!!
Starsky is a little afraid of big dogs and will growl and bark at them. He also likes to bark at cows!
Starsky is in one of our wonderful foster homes and has recovered well and has been approved for adoption!
Starsky is guesstimated to be 10 years old and weighs around 6/6 pounds. He is very sweet and very little! If you would like to meet him, put in your application today!
Starsky's Sponsorship Options


One Time Sponsorship
---------- OR ----------
Recurring Sponsorship
$

Repeat sponsorship payment every:
Would you like to stop
the recurring sponsorship
after a certain number of payments?
Yes No
If yes, how many?