Paco Lulatsch's Web Page
Dachshund (long coat) : : Male : : Adult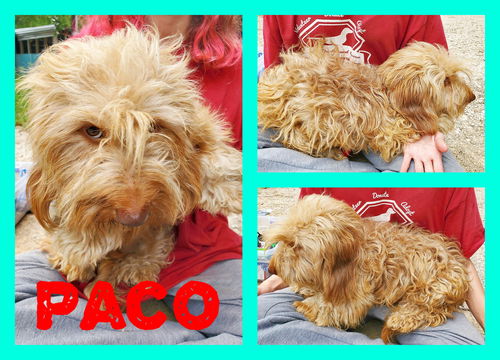 Welcome to the Wonderful World of Rescue Dachshunds. Look around and read their bios. Find a few whose personality seems to fit well. Consider one of our Well Seasoned Seniors who are truly wonderful and have so much to offer. Need help finding the best fit? We'll help with that too. Please fill out an application and let's get you all matched up with a loving new "furever' companion and friend. You'll find the application on the "Available Dogs" page. NOTE: Adoptions to Central/South Texas residents only
Please see FAQs for current adoption fees. DDRTX only adopts in Central/South Texas.
Email: ddrtxinfo@gmail.com Primary Website: www.DDRTX.org
#10 of 11 Lulatsch Family
About Paco Lulatsch

Status: Available for Sponsorship
Species: Dog
Rescue ID: 23-0055
Color: Liver Red Soft Wire
Current Size: 13 Pounds
Current Age: 1 Year 6 Months (best estimate)

Reaction to New People: Cautious
Paco is an 18 month old soft wire male dachshund. He is around 13 pounds. Paco is one of the Lulatsch family dogs we just took in.
Paco is a super cuddle bug. He loves to lay with you and will follow you everywhere. He is still a little timid but very sweet. He is fine around the other dogs but doesn't seem to need a buddy. I've been brushing/combing a little each day to get him used to it as he will require lots of grooming to keep him handsome. His coat is what they call a silky wire coat. He is funny when he drinks water, he gets wet under his chin and drips water as he walks around. Paco will make someone a great comfort companion!
Paco is on sponsorship for now. He was anemic when he came in. His counts are getting better but he is still not ready for shots yet or neuter. If you would like to sponsor him during this time, please go to our sponsorship page!
More about Paco Lulatsch
Good with Dogs
,
Good with Older/Considerate Kids Only
,
Good with Adults
,
Likes to be in your lap
,
Obedient
,
Timid
,
Affectionate
Love dachshunds and not ready to adopt or circumstances won't permit having a dog? How about being a sponsor or making a donation. Every one of our dachshunds receives excellent medical care along with day to day food, love and housing. Being non-profit, we rely on generous individuals like yourselves to help save these fur babies. You can do this specifically for one dog with the sponsor button on their webpage or a general donation on our "How To Help" page. Easy and quick through Pay Pal or your debit/credit card. You generosity is sincerely appreciated by all and is tax deductable. Need other ideas? You'll find tons of them on the How to Help tab. All contributions are tax deductable.
Diamond Dachshund Rescue of Texas is a non-profit 501(c)(3) volunteer organization with focus on rescue and adoption of pure breed Dachshunds. All dogs are fully vetted and housed on private property. Meetings are scheduled upon adoption approval. Thank you for your continued support to the rescue and shelter communities! Opt to Adopt!